VARIO Perfect 1200 PLATINUM on MB Actros 2553 LLL
Precision and innovation come together in the VARIO Perfect 1200 PLATINUM.
The new dimension of driving dynamics shows its face, is handy, manoeuvrable despite 26 t and superlative on the fully air suspended three-axle Mercedes-Benz Actros 2553 LLL with a length of 12 m and a self-steering trailing axle. Three pneumatically sealed living area slide outs are on board as well as the XXL car garage for a Mercedes-Benz AMG GT with automatic retraction on a cantilever car platform that also accommodates a Porsche 911. High-tech, conveniently packaged in PLATINUM design with a black real glass window front on an elegant metallic finish in silver.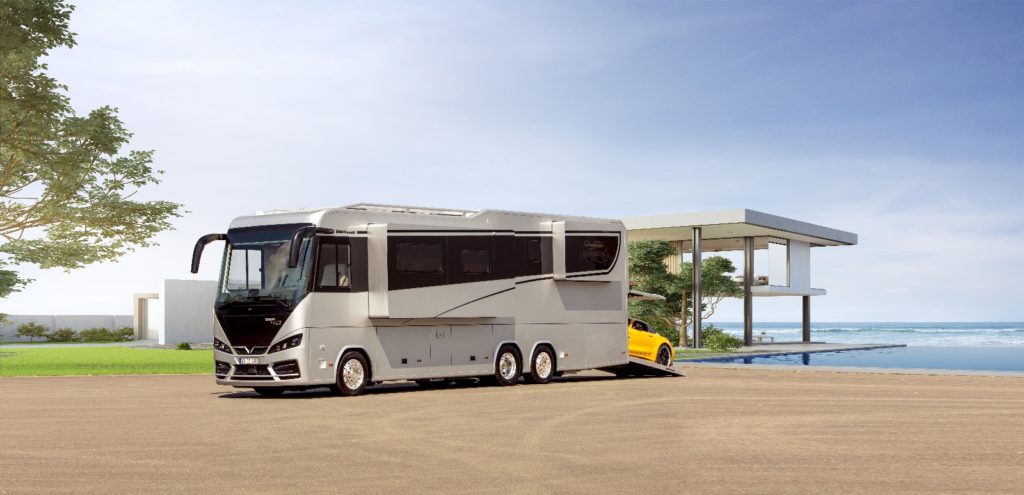 The handmade interior in "bentART" design shows a contrasting combination of satin-white with American walnut fine wood veneer. This equipment line impresses with its gently rounded shape and really brings out the light leather living area with comfortable, electrically adjustable Captain's Chairs. The ambience of the spacious motorhome salon is interestingly complemented by relief structure furniture walls and stylishly illuminated indirectly. A microprocessor-controlled PLATINUM lighting system with memory illumination scenes and various dimming functions ensures an atmospheric ambience. LED spots also emit soft light in the recessed handles of the doors and pull-outs.
The "cubeART" kitchen block with side panels and worktop presents itself as elegant and well thought-out as a surrounding frame with indirectly illuminated handle niches, "Push to Open" drawer system with automatic locking while driving, dishwasher and an exclusive designer kitchen faucet. The spacious bathroom also impresses with its selected washbasin system with RGB lighting and designer fittings, indirect lighting of the handle niches and embedded STARON® mineral stone washbasin. Ceramic floor coverings are part of the exquisite ambience.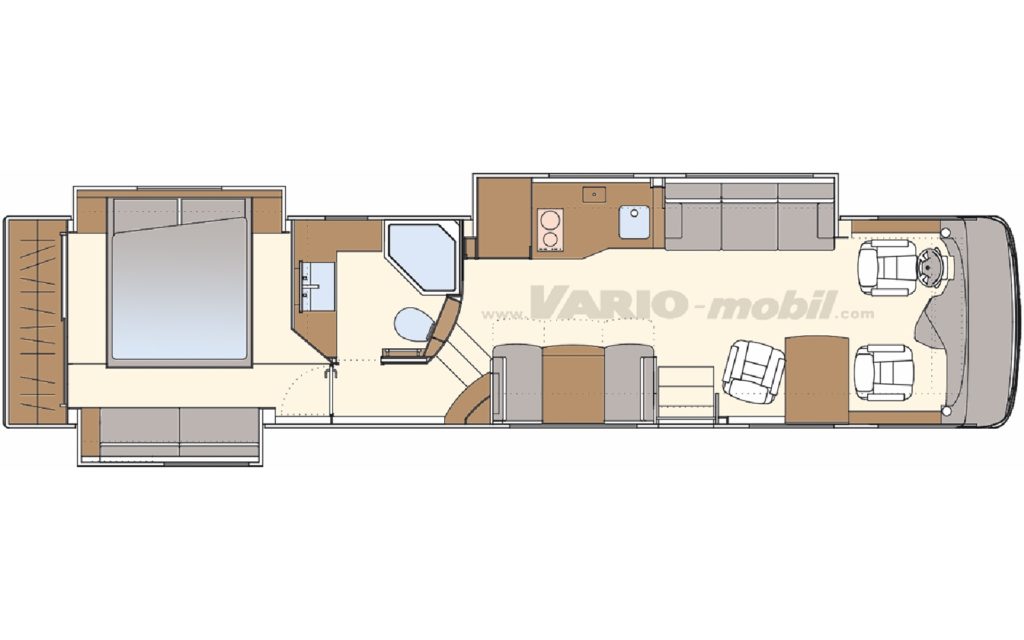 Many other technical highlights are convincing. E.g. the lifestyle sound system, multimedia entertainment or the self-locking 'eGLIDE' sliding door system in the luxurious bedroom. The Perfect 1200 is completely gas-free and has an efficient hot water diesel heater with 10,000 W / 17,000 W heating power, an electric heating cartridge and an engine heat exchanger for heating while driving.
VARIOmobil. A class of its own, especially when it comes to quality.
Length / Width / Height 12.000 mm / 2.550 mm / 3.990 mm
Chassis Mercedes-Benz Actros 2553 LLL
Hores Power 390 kW / 530 hp
Gross vehicle rating 26.000 kg
Tank capacities 390 l Diesel 60 l Ad Blue
500 l fresh water / 400 l grey water / 300 l black water
Manufactury construction 100 % Custom made, 2 – 4 beds, individual freedom of planning
in terms of layout, equipment, paintwork and all other exclusive equipment details
Character Exclusive comfort mobile, state-of-the-art PLATINUM full equipment, innovative technology, interior bentART, cubeART, rustART design, 3x extendable slide-out technology, XXL car garage, driver assistance and safety systems. 100 % individual construction.
Basic price EUR 945.690,-
Price show car EUR 1.554.430,-