VARIO Alkoven 1050 on MB Actros 1846 LL
Exclusive alcove motorhome. Never off the shelf. Always built individually. Unlimited personal.
"We aim to continuously explore and redefine the qualitative and creative possibilities of high-end motorhomes and vehicle construction."
says project manager Frank Mix about this unique alcove motorhome.



The essentials in brief:

• camera-based mirrorless driving (see photos)
• car garage for mini convertible
• electrically operated sliding platform for automatic car pull-in
• 'veloSLIDE' with a charging station for two e-bikes arranged right next to the car
• 2 separate sleeping areas with queen-size beds
• exclusive equipment
• interior "benART" design white, walnut
• leather lounge + lifestyle sound system with subwoofer

Lifestyle. The living area in the VARIO alcove shows an impressive sense of space that is reminiscent of a luxury apartment. Intelligent lighting control sets the scene for the mobile.

First-class workmanship and a luxurious ambience indicate the artisanal furniture construction in modern colours. Matt white contrasts with exquisite walnut wood, "bentART" design with rounded furniture fronts. Exquisite materials such as the heated porcelain stoneware floor in the kitchen and bathroom, the Corian® worktop, leather upholstery and the spacious living area give the interior space an extraordinary elegance.


From a motorhome length of 9.5 m or more, individual VARIOmobile including a car garage are constructed in the Bohmter motorhome manufactory. A BMW Mini Cabrio can be placed in the tailor-made rear garage using a cable winch or the even more convenient automatic sliding platform. As with the entire motorhome, it is important not to drop any space and to find exclusive, comfortable and, above all, customer-specific solutions with many years of experience in craftsmanship. The innovative 'bikeSLIDE' should be emphasized. Two e-bikes can be stored individually next to each other on a separate pull-out system, supplied with power via the integrated charging station and also loaded and unloaded right next to the car. No need to park the car! The large hydraulically opening tailgate protects from the scorching sun and even when it rains during the loading process. This is how we at VARIOmobil understand multifunctionality: no relocating, no either or, simply ready to drive several vehicles.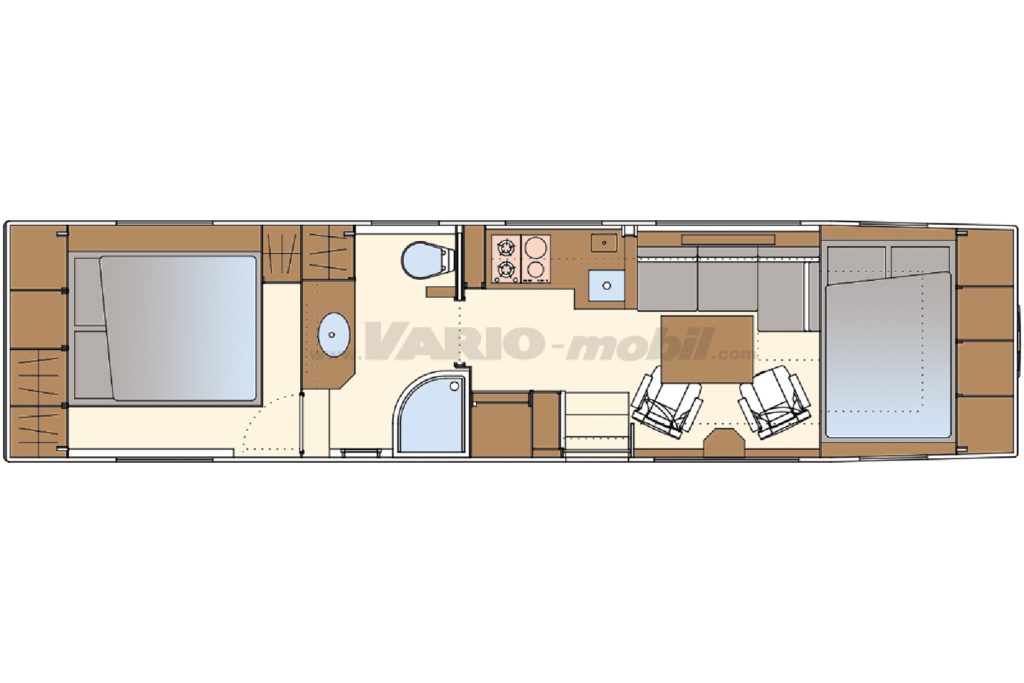 VARIOmobil. A class of its own, especially in the area of quality.
Length | Width | Height 10.500 mm | 2.550 mm | 3.900 mm
Chassis Mercedes-Benz Actros 1846 LL
Horse Power 335 kW / 455 HP
GVWR 18.000 kg
Tank capacities 390 l Diesel 60 l Ad Blue
450 l fresh water | 350 l grey water | 250 l black water
Manufactory construction individual floorplans, 2-6 beds
Character Exclusives comfort motorhome, most modern full equipment,
innovative technics, interior bentART,
passenger car garage with platform and 'veloSLIDE',
safety assistance systems as standard
Basic price EUR EUR 624.431,-