This latest solar panel joins the 100 watt (rigid) and 110 watt (flexible) modules to extend the range
of service battery charging options. The 130 W power rating ensures greater off-grid camping
autonomy Lugo di Ravenna (24 January 2022) – To continue enjoying every comfort when touring with your RV, especially when parked off-grid, the availability of eco-sustainable photovoltaic modules is a must. Modern camper life lets you use smart TVs, satellite antennas, hi-fi audio systems or inverter-powered computers – just like at home. Moreover, the new, increasingly popular compressor refrigerators no longer feature the gas alternative and thus join the other devices powered by the service battery. When driving or connected to the mains, energy autonomy isn't even an issue. However, when you're parked off-grid things change: stored energy now powers all the on-board utilities and it can only be topped up with the aid of photovoltaic modules or generators such as our Energy, TIG and EcoEnergy ranges.
To ensure maximum peace of mind and have all the energy you need, Teleco Group has expanded its solar panel range. Italian company Teleco specialises in on-board energy generation and control solutions for recreational vehicles. Its catalogue includes diesel, petrol and LPG generators, battery chargers,
multichargers, lithium batteries and photovoltaic systems. In this last sector, Teleco can boast a long tradition and is now pleased to announce the availability of a 130 watt solar panel. The new TSP 130W Rigido retains all the compactness (1,065 x by 670 mm) and lightness (7.8 kilograms) of the TSP 100W model but provides 30% more power.

The TSP 130W consists of a sturdy anodized aluminium frame and is just 35 mm thick. Its thirty-six 156 x156 mm monocrystalline cells are protected by a 3.2 mm tempered glass cover. Normal operating cell temperature (NOCT) is 46 °C, with a variation of plus or minus 2 °C.
This latest module is also available as a kit containing everything you need to install it from scratch: ABS
attachment feet, front spoiler, a specific glue, cable glands, extension lead and a 10 amp PWM charge
controller. The Teleco range also includes a charge controller capable of powering two service batteries (SPC 10/2); this can be paired with the TRC remote control panel; this display shows battery charge, voltage, incoming current and the W/h or A/h produced by the panel, all presented in a user-friendly format.
For those considering a general upgrade of their on-vehicle charging systems, Teleco also provides the TBCM PRO 45/30/350 Multicharger: an automatic 3-source battery charger that can operate with the 45 amp engine alternator, mains power or upto 30 amp generator, and with solar panels to provide a maximum total of 350 watts. In this case, the integrated charge controller uses MPPT technology.
The new rigid TSP 130W photovoltaic module completes a range of panels that also include the flexible TSPF 110W model. All Teleco products use monocrystalline cells, which offer efficiency that ranges from 15.2% on the 100 W model to 16.9% on the 110 W model. The new 130 W model ensures an efficiency of 16%. All products can operate within a temperature range of between -40 and +85 °C, with a maximum relative humidity of 85%.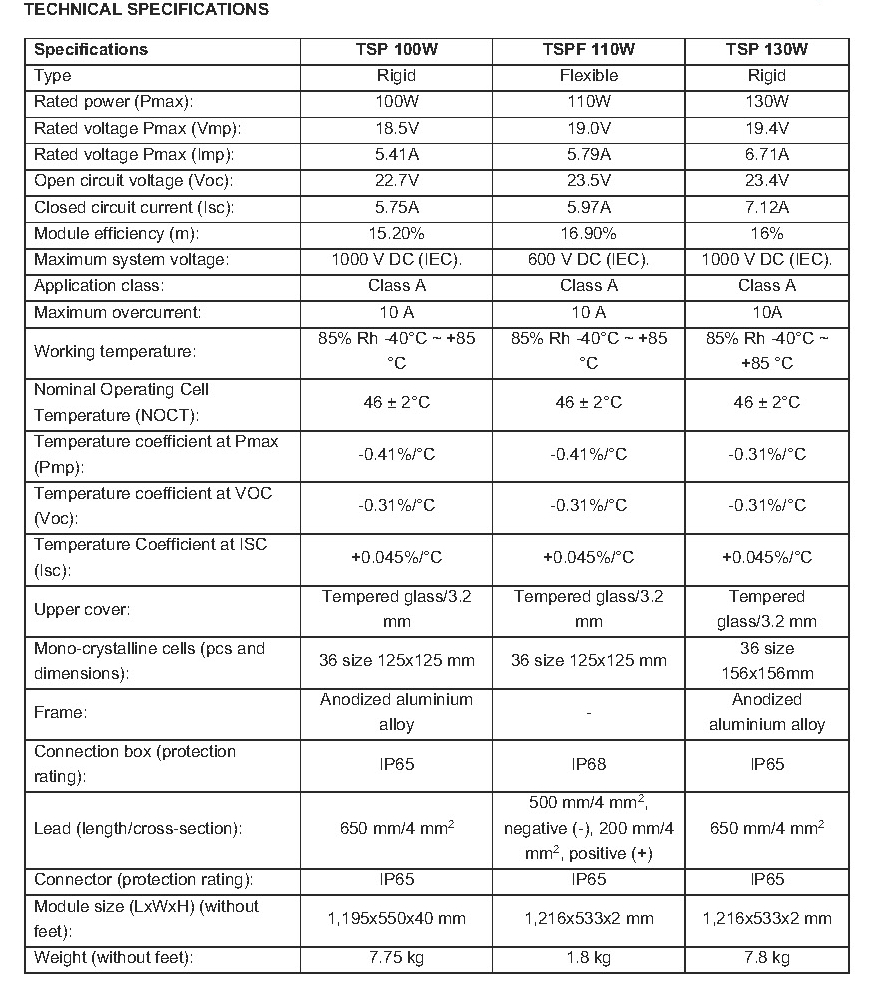 The TSP 130W Rigido is already available from authorised Teleco Group dealers.